RPSC Inception program
The most personalized course to ensure your selection in the toughest exam of Rajasthan!
How we make sure you are selected
Take a free demo with a mentor to understand
why UPSC Pathshala
Best Quality Video Content
Amazing videos covering the entire syllabus of the examination for both prelims and mains exam.
Smallest batch size for mentorship
Get personalized attention in the smallest mentorship batches of 5 students. Discuss your doubts and study with a plan.
Extensive Rajasthan Special Coverage
No need to search for Rajasthan relevant content anywhere. Everything you need to know to master the Rajasthan special will be in the course only
Practice Tests and Mock Tests
Keep a track of your preparation with a regular test series of Rajasthan PSC standards. Solve objective and subjective questions to learn better.
Your time, Your place
Prepare without any constraint of time and space. No need to quit your job or relocate to some other city. Prepare from the comfort of your home.
Super Affordable
No need to spend a fortune sitting in a classroom of 500 students. Get personalized training at a fraction of the cost.
What you will learn
General Studies (GS)
500+ hours of high-quality video content covering all the topics of GS-1, GS-2, GS-3, and GS-4 for both prelims and mains exam.
Current Affairs
Exhaustive coverage of all the important current affairs of the entire year might be important for the examination through video lectures, readers, magazines, and analysis notes. No need of wasting time memorizing newspapers and magazines.
Maths, Reasoning, and English
100+ hours of content with a number of practice tests to ensure your complete dominance of the Maths, Reasoning, and English section in Prelims.
Answer and Essay Writing
The practice of writing more than 400 answers and 100 essays to ensure perfection in the writing skills.
Interview Preparation and Mocks
Get the best practice of interview, with detailed analysis of your DAF and mock interviews with experts and serving Civil Servants.
What do you get from this course
Take a free demo with a mentor to understand
Course Content
Advanced Video Lectures
Current Affair Webinars
Guidance For Interview
1-year Validity
Digitally available-website and mobile app
Schedule & Mentorship
Personal Mentor
Daily Study Plan
Discussions Twice a Week
Practice Mock Test
Course Offering & Pricing
Discuss pricing and get your preparation started
Who are your Mentors?
Take a free demo with a mentor to understand
Now what you are looking for?
Here are some of our other offerings
View All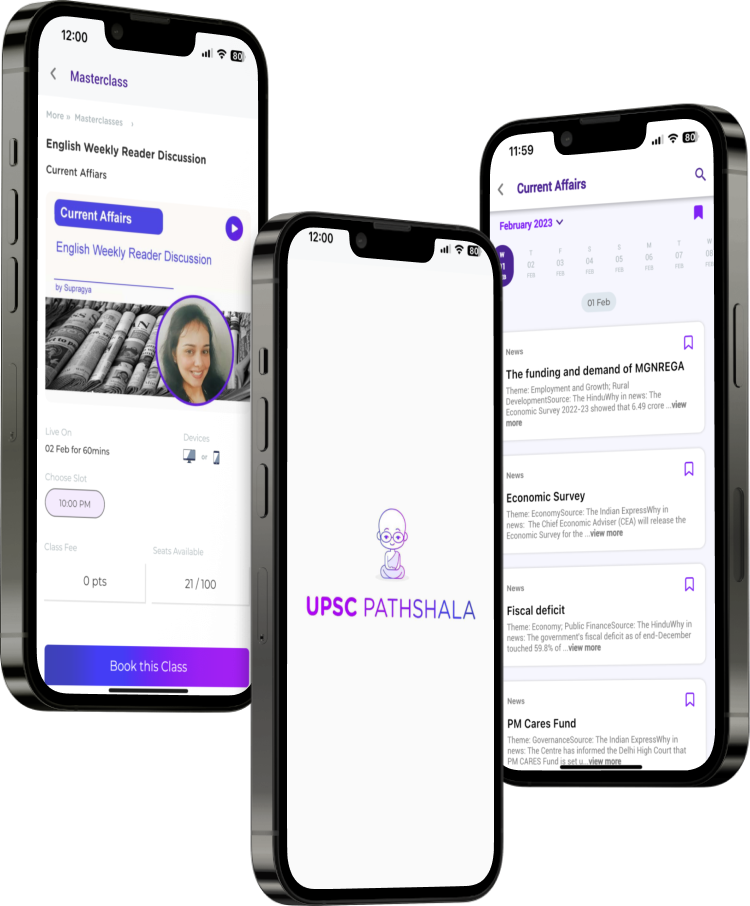 Learn Anywhere Anytime
Download our app for "infinite" question bank and practice
We've got you covered, download our UPSC Pathshala App now to stay updated with current affairs, free videos and much more.
Take a free demo with a mentor to
understand why UPSC Pathshala.